Reviewed by Special K – ETMG Writer and Blogger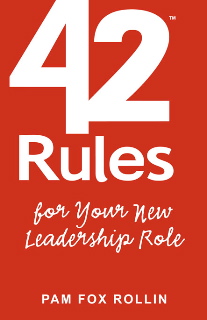 The Manual They Didn't Hand You When You Made VP, Director, or Manager
If you remember starting an entry-level job, then you probably recall that front-line managers and experienced colleagues were willing to share plenty of advice about what would and would not work in that particular work environment.
As you move further up the leadership ladder – particularly when hired into a Manager, Director, or VP role – you are less and less likely to receive useful guidance. Ironically, this is exactly when some pointers would be most useful. Just because you succeeded in your previous role (kudos!), there's no guarantee that you are ready for the next one.
Pam Fox Rollin, an executive coach, wrote 42 Rules for Your New Leadership Role to help people like you successfully transition through those few first critical weeks in your new position.
This concise and accessible book, which grew out of the author's work with the Center for Leadership Development & Research at Stanford University's Graduate School of Business, is designed to help you coach yourself to become an effective and successful leader.
The rules are organized into seven "to-do" chapters that provide an excellent road map for success:
1. Set Yourself Up For Success. This section includes a reminder that regardless of industry, time, and market conditions, "leaders at all levels succeed or fail for a surprisingly common set of reasons: meeting business objectives, succeeding in interpersonal relationships, building a great team, and adapting to change." Prepare and hit the ground running.
2. Map the Terrain. Pam points out that during your first two to three weeks, it's important to take stock of your new environment, map what matters, and determine how you'll create value. During this time, it's important not to prematurely adopt other people's agendas or spend too much time chasing fires.
3. Show Up Wisely. Leverage your strengths carefully. Deal with your weak spots. Present yourself effectively. Even though it may be tempting to blame the last guy, don't do it. Focus on empowering your team.
4. Start Your Wins. Pick smart quick wins, plant seeds for future wins. Empower your team, and communicate effectively.
5. Create Your Management System. Once you've hit your stride, it's time to define your processes for managing risk, communicating, managing performance, and developing talent. Develop your own metrics, and make the most of screw-ups.
6. Stay Smart. After a couple of months, instead of resting on your laurels, schedule time to build insights about the future of your business. Stay current without getting bogged down. Build your industry presence.
7. Set You and Your Team to Thrive. Build a team and a life that sustains high performance over the long haul.
The genius of this book is that it provides a well-researched summary of basic important guidelines that are often forgotten during the tumultuous first weeks and months of a new leadership position. It's a quick and enjoyable read with many interesting examples from well-known companies. I highly recommend this book to anyone who is moving into management and leadership positions. An added bonus: additional resources are provided online including worksheets, podcasts, and posts from Pam, as well as links to articles, research studies, and other tools to help you learn even more about leading well!
To buy, go to: http://ideashape.com/pams-book-42-rules-your-new-leadership-role/
Further Reading:
IdeaShape Leadership Coaching and more about Pam Fox Rollin
Online Resources for 42 Rules for Your New Leadership Role:
http://ideashape.com/pams-book-42-rules-your-new-leadership-role/online-resources-for-42-rules-for-your-new-leadership-role/